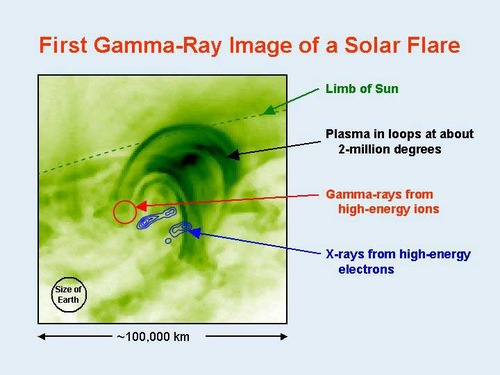 Solar flares are among the most powerful explosions in the solar system; the largest can release as much energy as a billion one-megaton nuclear bombs.
Gamma-rays and X-rays are the most energetic forms of light, with a particle of gamma ray light at the top of the scale carrying millions to billions of times more energy than a particle of visible light.
Antimatter is rare in the present-day universe. However, it can be created in high-speed collisions between particles of ordinary matter, when some of the energy from the collision goes into the production of antimatter. Antimatter is created in flares when the fast-moving particles accelerated during the flare collide with slower particles in the Sun's atmosphere. Antimatter annihilates normal matter in a burst of energy, inspiring science fiction writers to use it as a supremely powerful source to propel starships. Antimatter is often called the "mirror image" of ordinary matter, because for every type of ordinary matter particle, an antimatter particle can be created that is identical except for an opposite electric charge or other fundamental properties
.According to flare theory, these collisions happen in relatively dense regions of the solar atmosphere, because many collisions are required to produce significant amounts of antimatter. Scientists expected that the antimatter would be annihilated near the same places, since there are so many particles of ordinary matter to run into.
http://www.nasa.gov/centers/goddard/news/topstory/2003/0903rhessi.html